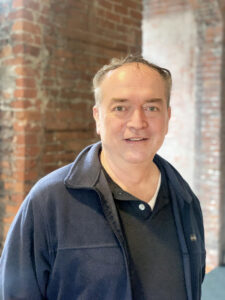 Chris Guerra joined HHL Architects in 1988 and became a New York State registered architect in 1990. He graduated from Pratt Institute School of Architecture and Planning in New York City with a Bachelor of Science in Architecture.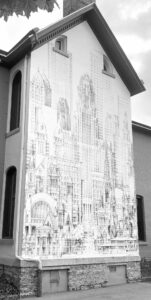 Just before joining HHL, Chris drew the montage of Buffalo buildings (he now sells as posters), and at HHL's 50th year celebration, we realized that we've actually worked on virtually all of these buildings! We asked Chris if we could apply his beautiful poster as a mural to our building, in honor of Buffalo, HHL, and him. Fortunately, he agreed!
Possessing design intuition that is sensitive to existing structures and contextual appropriateness, Chris has regularly been the lead designer on most of the new buildings HHL has designed since he joined. His talent extends into many building types, of variety design motifs to suit the context. In addition to his design expertise, Chris has been an instructor at the University at Buffalo, School of Architecture and Planning, as well as his alma mater; the Pratt Institute.
Chris has been active in the Buffalo community, serving on boards such as the Preservation League of New York State, New York State Council on the Arts, the Downtown (Buffalo) Neighborhood Development, and the Buffalo Preservation Board. He was recognized by the Buffalo Urban Core International Design Competition, and also earned a Merit Award from the Philadelphia Urban Planning Competition for his work on Market Street Terminus at Penn's Landing.
HIGHLIGHTED PROJECTS
285 Delaware Office Building
Artspace Patchogue Lofts
Erie Community College Burt P. Flickinger Athletic Center
Lancaster Presbyterian Church Renovations & Expansion
Center for Inquiry Expansion & Renovation