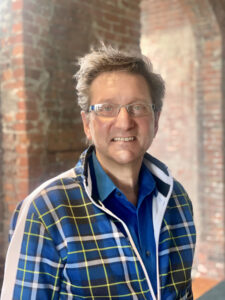 Matt joined HHL Architects in 1989, became a registered architect in 1990, and became partner at HHL in 1997. A lifelong Buffalonian; he received an AAS in Architectural Technology from Erie Community College, followed by a BPS in Architecture from the University at Buffalo. He is responsible for staff and business development, while leading project design and management. He has extensive experience managing complex, multi-million-dollar projects requiring communication between consulting firms. Highlights include leading the restoration and reconstruction of Frank Lloyd Wright's Darwin Martin Estate along with former partner Ted Lownie; the multiple office headquarters designs, and food service facility designs for Delaware North Companies; leading the development of M&T Bank's Design Standards and corporate & branch designs; and the award-winning adaptive reuse of Spanish Harlem's (NYC) historic PS109 High School into El Barrio's Artspace PS109, for Minneapolis-based Artspace Projects. Matt continues to lead hospitality and multi-family housing projects, as well as other historic and corporate design projects.
Matt has been involved in the Western New York Community, serving on boards such as American Institute of Architects, and the Buffalo Niagara Partnership's former Downtown Buffalo Neighborhood Development, where he led the Buffalo Regional Urban Design Assistance Team project for "Living in a Downtown." In 1998, Matt was recognized by Business First in their annual 40 Under 40 awards and also received the Professional Excellence Award for service to the profession by the local AIA chapter in 2003.
KEY CLIENTS / PROJECTS
Artspace Projects, Inc.
Artspace Buffalo Lofts
Artspace Patchogue Lofts
El Barrio's Artspace PS109
Roderick Artspace Lofts (El Paso)
Artspace Trinidad (CO) Space to Create
Artspace Ridgway (CO) Space to Create
Artspace COS Lofts (Colorado Springs)
Artspace Utica Lofts
Regan Development
Packard Building Apartments
Niagara Gateway Apartments
Swinburne Building Apartments
The Mill at Crossroads Apartments (Buffalo)
Delaware North Companies
M&T Bank
New York State Office of Parks, Recreation & Historic Preservation
Frank Lloyd Wright's Martin House
Niagara Falls State Park
The Longshed @ Canalside (Buffalo)