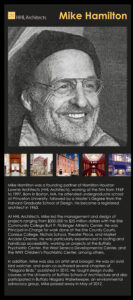 Mike Hamilton was a founding partner of HHL Architects in Buffalo, NY, working at the firm from 1969 to 1997. Born in Boston, MA, he attended undergraduate school at Princeton University, followed by a Master's Degree from the Harvard Graduate School of Design.
Mike became a registered architect in 1963 and founded HHL Architects in 1969 with Frederic Houston and Theodore Lownie. At HHL, Mike led the management and design of projects ranging from $300,000 to $25 million dollars with the Erie Community College Burt P. Flickinger Athletic Center. He was Principal-in-Charge for work done at the Erie County Courts, Erie Community College Athletic Center, Canisius College, Nichols School, Theater Place, and Market Arcade Cinema. He was particularly experienced in roofing and handicap accessibility, working on projects at the Buffalo Psychiatric Center, the West Seneca Developmental Center, and the Western New York Children's Psychiatric Center, among many others.
In addition to his work at HHL Architects, Mike was also an artist and biologist. He was an avid bird watcher, and a member of the Buffalo Ornithological Society. He also was a co-author of several chapters of "Niagara Birds," published in 2010. He taught design studio courses at the University at Buffalo School of Architecture and also participated in Buffalo Niagara Riverkeeper, an environmental advocacy group. Mike passed away in May of 2012, and is survived by his wife of 20 years, Susan F. Riordan; a daughter, Katrina V.T.; and two sons, Douglas P. and Philip K.
KEY CLIENTS
Erie County
Erie Community College
Canisius College
Market Arcade
Theater Place