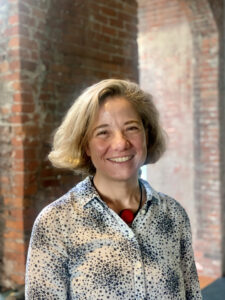 Alexandra joined the HHL team in mid-2023. She began her architectural profession in 2002, working at some notable NYC-based firms, as well as Buffalo based firms. From 2008 through 2013, she worked as an architectural educator at NYC's College of Technology followed by a similar role at New York University. The combination of practical and technical instructional experience makes Alexandra very well rounded and valuable for HHL's projects as well as collaboration with staff.
Her education began in the late 1990's at NYU's College of Arts & Sciences, where she earned a Bachelor of Arts degree in Art History, notably achieving Magna Cum Laude with Honors. Immediately following, at NYU's Institute of Fine Arts, she earns a Master of Arts degree in Art History. In 2002, she then earned a Master of Arts degree in Architecture, from MIT. She became a New York State licensed Architect in 2007.
Alexandra has been recognized with numerous awards and citations, has led various grant submissions, and has lectured on design and has written articles on design which have been published. She brings to HHL; experience with planning, interior design, adaptive reuse, as well as new building design.