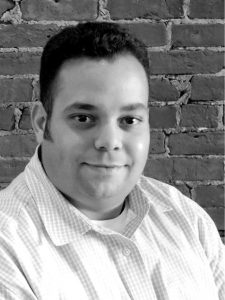 Mr. Rivera is a registered architect with over 18 years of experience, and is an Associate Architect here at HHL. He holds a Master of Architecture from the University at Buffalo, where he also completed his undergraduate work in the same field. He went on to teach at the university in the School of Architecture and Planning, and is also currently an Associate Adjunct Professor at Erie Community College in the Construction Management Technology Department.
As a community leader, Manny has been on various community boards, including the Massachusetts Avenue Project, and Heart of the City Neighborhoods, at which he is Board President. Mr. Rivera has also served as a board member for the American Institute of Architects Buffalo/Western New York, where he continues to volunteer. Manny has also served as a mentor to students on the JCSB Project through ACE Mentoring, on the Steering Committee for the Career and Technical Education Department with the City of Buffalo Public Schools, as well as with Erie Community Students.
Manny's skill set in innovative design and his technical mastery affords him a unique opportunity to achieve success, displayed in numerous projects such as the Lafayette High School Renovations, the New York State Parks State Wide Design Efforts, as well as Multi-Family Housing across the country.

HIGHLIGHTED PROJECTS
BPS No. 64 Olmsted School
Buffalo, NY
Canisius High School Kennedy Field House & Montante Math & Science Addition
Buffalo, NY
Delaware North Companies World Headquarters
Buffalo, NY
ISHA – MASH Urgent Care
Various Locations
Letchworth State Park Nature Center
Castile, NY